Skip to Content
Preparing for Hair Transplant Surgery and Recovery
If you've made the decision to undergo hair loss treatment in Richmond, you can look forward to renewed self-confidence and an enhanced self-image. But before you have hair restoration, you'll need to take some time to prepare for the procedure and get ready for your recovery. Your first step is to have a consultation with the hair doctor. He or she can help you learn about treating hair loss in women or men. The doctor will also provide you with detailed pre-operative instructions.
Disclosing Your Medications
Although it's minimally invasive, hair restoration is still a surgical procedure. This means you must inform the surgeon of all medications you take. This includes over-the-counter drugs, prescription medications, insulin, vitamins, and herbal supplements. The doctor may ask you to discontinue certain medications and supplements for a period of time prior to your procedure.
Making Lifestyle Choices
Your hair loss doctor may ask you about your lifestyle choices, such as whether you smoke and consume alcohol. If so, you may be asked to stop consuming alcohol for a while before and after your procedure. Quitting smoking, at least temporarily, may be necessary to encourage proper blood flow to the scalp.
Caring for Your Hair
Your physician may ask you to avoid coloring or cutting your hair for a while before the procedure. Leaving your hair a little longer can help conceal the suture site while it heals. You may be asked to wash your hair with a special shampoo on the morning of your procedure.
Getting Dressed
It's a good idea to wear loose, comfortable clothing to the hair loss clinic on the day of your procedure. However, choose clothing that you will not need to pull over your head to remove.
Modifying Your Activity
Remember to arrange to have someone else drive you home from the clinic after your procedure. You'll also need to take some time off from work or your other activities. Many patients can resume light activity within just a few days after the procedure. However, you may be asked to avoid strenuous activity for several weeks.
Caring for the Transplant Site
Your physician will let you know how you should care for the transplant and donor sites. You'll likely be asked to sleep with your head elevated for a few nights. You'll also return to the clinic for several follow-up visits.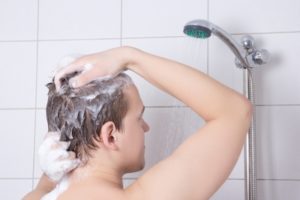 ""