Skip to Content
Online Hair Transplant Consultation in McLean, Richmond and Virginia Beach, VA
Online Consultation for Custom Hair Loss Solutions
Virginia Surgical Center is proud to serve the McLean, Richmond and Virginia Beach, VA area comprehensive, custom, and quality solutions to their hair loss. We serve both male and female patients with solutions for receding hairline, thinning eyebrows, bald spots, and so much more. When you choose Virginia Surgical Center, you can rely on trustworthy experts, state of the art technology, and a customized treatment plan. Our services are now even more convenient with our online consultations for hair loss. Contact us now to set up an appointment.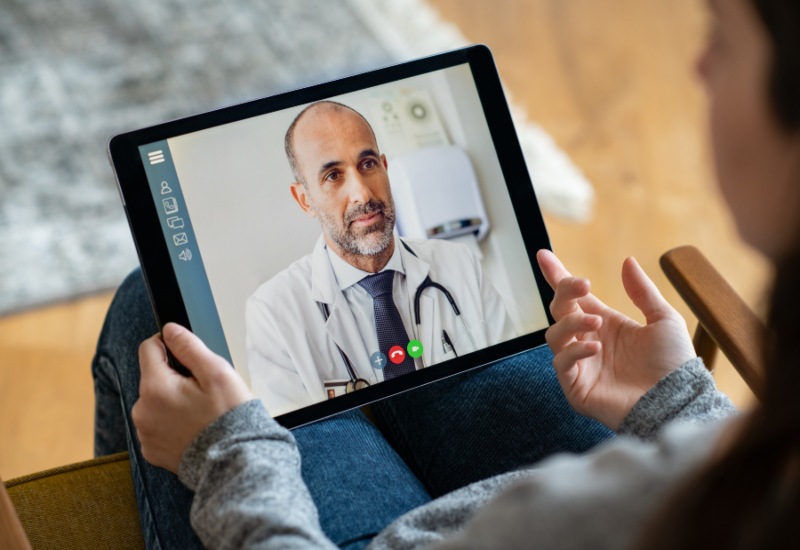 Schedule an Online or In-Person Consultation
At Virginia Surgical Center we want to provide our patients with quality services at their convenience, which is why we offer online and in-person consultations. You can schedule an in person or online hair loss consultation to determine if Virginia Surgical Center can help you achieve your hair goals. Ask about our discounts for active-duty military, DOD, and military personnel. We can meet on many different virtual meeting platforms including:
Zoom
Google Hangouts
Microsoft Teams
Facetime
Information About Online Consultations
During your consultation, feel free to ask as many questions as possible so you can feel fully prepared to move forward in the process. We will also ask questions to better understand your hair goals, desires and vision. During this conversation, we will be able to determine:
If you're a suitable patient for hair transplant surgery
Whether your hair goals can be realistically obtained, or if they need to be adjusted
An estimate of how many grafts will be required to achieve your hair goals
An estimate cost for the hair transplant
We'll also ask you to provide us with your complete hair loss/transplant history as well as pictures of your hair loss and your donor area. This information will allow us to provide you with a more accurate estimate. Contact our team today to reserve your online appointment.
What Can I Expect from My Hair Transplant Consultation?
When you schedule a hair transplant online consultation with our experts at Virginia Surgical Center, you can expect knowledgeable professionals and transparent information. Your hair transplant consultation is a time for you to discuss your hair goals with an expert. Our trichologists will assess your hair loss and provide you with quality advice and tips concerning the next step. This consultation is completely free and no obligation. It's a crucial service that allows you to better understand the process and for us to discover if you are a suitable patient for hair transplant surgery. Book a free no-obligation consultation with us today.
Do I Need to Prepare Anything for My Consultation?
When you go to book a consultation, we'll ask for some basic information such as your name, location, and contact info. We'll also ask that you send some pictures of your hair loss. This will allow us to go into the consultation with an idea of what you're experiencing. Other than that, you can prepare questions to ask our experts if you have them, but we'll take care of everything from there.
What We Do to Maintain a Healthy and Safe Medical Office
Patient health and safety are of utmost importance to us. To ensure that we keep our patients safe, we have a strict cleanliness policy. This allows us to prevent the spread of COVID-19, among other pathogens. We maintain a healthy and safe medical office with:
Strict protective gear for all employees and staff
Virus screening precautions for employees and patients
Never more than ten people in any clinic at a time.
Each room is kept to the highest cleaning standard. We have doubled down on our already rigorous cleaning routine. We've implemented clinic sterilization cycles hourly for your safety.
Not only do our safety and cleanliness measures protect our patients and staff from the spread of illness, but it also ensures that our surgeries and procedures go well and are as safe as can be. Sterilization and cleanliness are something that we've prioritized since the beginning of our office, and we continue to search for better and more effective ways to keep our office clean and safe.
Why Choose Virginia Surgical Center
When you choose Virginia Surgical Center for your online hair loss consultation in McLean, VA, you choose expertise and commitment beyond any other. Our hair loss experts will provide you with all of the information, resources and services you need to achieve your hair goals. With state-of-the-art technology and comprehensive services, your hair goals will be closer than ever. Contact us today for a free, no obligation online hair transplant consultation with our skilled experts at Virginia Surgical Center. These services include:
Free Online or Free in Person Consultation