Skip to Content
FUT Hair Transplant in Richmond, McLean, &, Virginia Beach, VA
FUT Hair Transplant Services in Virginia Beach, VA
At Virginia Surgical Center, we specialize in customized hair restoration for men and women in Virginia Beach, Richmond, McLean, and the surrounding areas. Whether you're concerned about your ever-receding hairline, patchy beard, or thin eyebrows, a follicular unit transplant (FUT) can help. We believe every patient is unique, which is why our office is focused on creating customized programs for each of our patients. If you're done with the one-size-fits-all approach to hair loss and ready to find a lasting solution, we're here to help through FUT hair transplantation.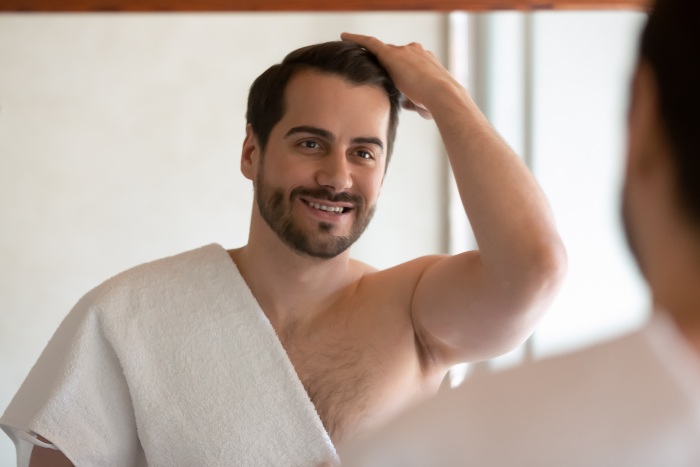 The Benefits of FUT Hair Transplants
An FUT hair transplant is a procedure that involves removing a strip of hair from the donor area and transplanting it to an area where the hair is progressively thinning or already balding. These transplants look very natural and are minimally invasive and produce maximum results. This method of combatting hair loss is effective, and has many benefits that other hair restoration solutions have yet to match, including:
• Convenient in-office procedure
• Replicates original hair growth pattern
• Minimal scarring in donor area that is unnoticeable under hair growth
• Preserves natural hairline
• Utilizes smaller grafts
• Offers a relatively straightforward recovery process
Additionally, this procedure does as little damage to the scalp as possible. At Virginia Surgical Center, we understand that natural-looking hair can only emerge from a healthy scalp. Our goal is to eliminate any damage done to the skin's connective tissue and blood supply so your graft can support maximum hair growth.
How the Process Works
When you visit any of our three Virginia facilities, we'll consult with you about your individual needs and develop a comprehensive treatment plan to address your concerns. When we have a clear understanding of your goal, we will begin discussing FUT hair transplantation, which is carried out in a few simple steps:
We numb patients with local anesthesia before removing a strip of skin from an unnoticeable spot on the back of their heads. We then prepare the strip of tissue to be removed and sutured closed with the trichophytic donor closure during the FUT hair transplantation.
We then remove one strip of tissue from the donor site. The hair grafts are then dissected to allow the individual follicular units to be removed from the strip without being damaged.
The area of the scalp or skin that needs transplantation is then prepared with tiny incisions that are made to imitate natural hair growth using the dense packing method.
We will then carefully place the grafts into each incision based on each section's hair angle and density.
Our seasoned hair restoration technicians take the utmost care to seamlessly distribute the healthy hair grafts for optimal results. We dissect your hair grafts using our state-of-the-art Mantis microscope, allowing for minimal waste or error. We are dedicated to restoring your hair and helping you become more confident than ever before!
The Recovery Process
The recovery process after your FUT hair transplant procedure is relatively painless. The surgery is performed under local anesthesia and can be completed within a day. The graft sites will be sensitive for several days, and we recommend patients keep their head elevated to reduce any swelling. We ask that patients refrain from picking any scabs surrounding the implant site, as these should last for about a week, only rinsing the area using the pour cup method. After a week the grafts will begin to shed and patients will typically begin shedding the remaining implanted hair between two weeks and two months following their surgery. The new hairs from the FUT hair transplant will start growing in three to four months, and patients can expect to see a significant difference as soon as five or six months after surgery. However, final results will not be seen for at least a year to a year and a half after a procedure.
Should You Consider FUT Hair Transplants?
FUT hair transplants offer patients a permanent solution to maintaining optimal appearance and confidence. However, it is essential to remember that FUT hair transplantation can only work if there are enough hair follicles to harvest. An optimal candidate will possess the following characteristics:
High-density hair on the donor site
Has hair that grows parallel to the scalp
Has a relaxed scalp as compared to a tight scalp
If you're a Virginia Beach, Richmond, or McLean, VA resident in need of a hair restoration solution, contact us today to learn more about this innovative procedure. We even offer free consultations to help you find the best hair restoration method for you! At Virginia Surgical Center, we provide state-of-the-art care and equipment so you can receive the best hair restoration treatments available.
Free Online or Free in Person Consultation