Skip to Content
Microneedling for Hair Loss in Richmond, McLean, &, Virginia Beach, VA
Microneedling Treatments in McLean, Richmond and Virginia Beach, VA
Treating and preventing hair loss is our priority in McLean, Virginia Beach, and Richmond, VA. Virginia Surgical Center offers microneedling for hair loss to our patients as a way to boost hair growth. We understand that our patients want new, innovative procedures that work. Microneedling is an effective, non-surgical way to help boost confidence with hair growth.
What Is Microneedling?
Microneedling is a common cosmetic treatment that addresses multiple effects of aging. Using a medical-grade pen with tiny needles, it works to boost collagen production by piercing minuscule holes in the skin. The idea behind microneedling is that the skin repairs itself in response to the tiny holes. The new skin is plump, glowing, and healthy.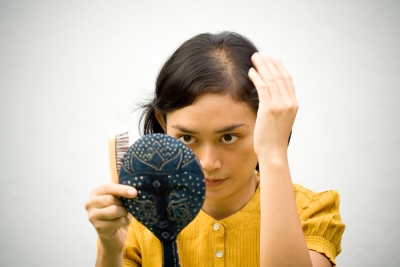 How Does Microneedling Help Hair Loss?
Though microneedling is commonly used as an anti-aging skin treatment, it can also help with hair loss. Microneedling shows promising results in treating hair loss caused by alopecia areata, traction alopecia, and telogen effluvium. The treatment can regenerate hair follicles by using the same process to create miniscule holes that boost collagen. Microneedling also helps to promote the absorption of products used to treat hair loss, including minoxidil, topical steroids, and plasma.
Microneedling Process
The microneedling process is a non-surgical, quick treatment that usually takes less than ten minutes. Our compassionate technician will apply a topical anesthetic to your scalp before treatment to reduce pain. We will gently move the microneedling device across your scalp. The motion punctures the epidermis layers of the skin, creating minuscule injuries. Your skin quickly works to create new collagen to heal the tiny wounds and improve the growth factors that are naturally produced by the skin. Microneedling also works to exfoliate the scalp, removing product build-up that suffocates the hair follicles. Microneedling can cost anywhere from $100 to $700 for each session. Each patient's customized microneedlng treatment cost will depend on the size of the treatment area.
Producing Fast Results with Microneedling
After the procedure, your scalp and skin may be flushed and red. This will diminish in a few hours. Visible results of microneedling generally take a few weeks and improve over time. You should notice new hair growth in a few weeks as stimulated hair follicles encourage new growth.
Trust Our Experienced Experts
With over 25 years of experience in our field, we've seen the hair restoration field grow with technology. We stay updated on the newest and best ways to encourage hair growth. We strive to deliver the best results for our clients. We'll quickly and accurately diagnose the source of your hair loss and personalize an action plan for you. Microneedling for hair loss is one of the newest ways to boost hair growth in our patients. We understand how to properly stimulate hair follicles safely and efficiently. You can trust us to boost your hair growth in the most positive, innovative ways.
Contact Virginia Surgical Center for A Consultation
At Virginia Surgical Hair Center, we customize each patient's hair growth plan. We offer free consultations to ensure the perfect treatment for you. We understand many people feel uneasy about hair loss, and we are here to help you in every way. We'll determine the best system for the best results for your hair. We offer multiple non-surgical hair loss therapies, and we will find what works best for you. Start your journey towards thick, longer hair by contacting us today.