Skip to Content
Male to Female Hair Transplants in McLean, VA
Customized Hair Restoration Solutions Near You
Our team at Virginia Surgical Center is passionate about providing our patients and community in McLean, VA, and the surrounding areas with quality customized hair restoration treatment. For over 20 years, we have been providing surgical and non-surgical hair loss treatments for every hair problem such as balding, thinning and receding hairlines. We also offer male to female hair transplants to help you become the person you envision.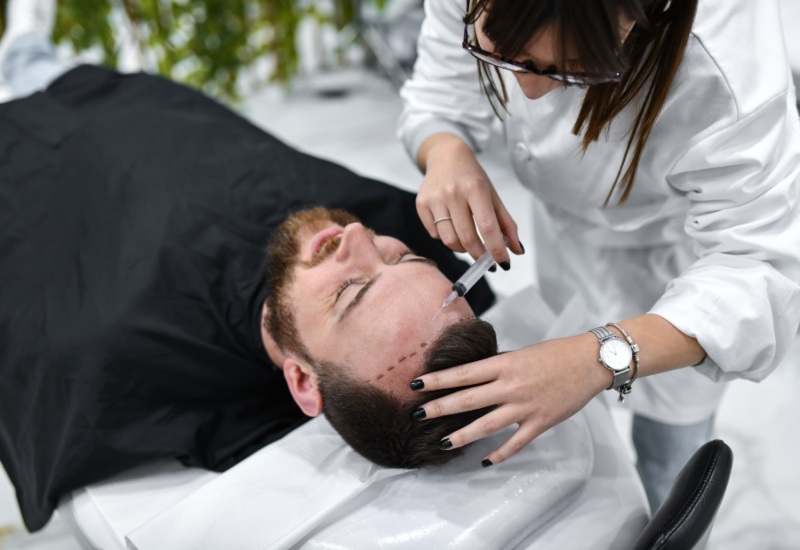 MTF Transgender Hair Transplants
An MTF (male to female) transgender hair transplant helps trans women achieve their hair goals through the feminization of the hairline and the creation of thicker hair. While hormone therapy can help with this process, it can't feminize your hairline or hair loss. Fortunately, through innovative hair transplant methods you can achieve the more feminine hair that you're looking for. Contact our team at Virginia Surgical Center to request a free consultation where we will provide you with a customized MTF transgender hair transplant treatment plan.
Areas We Can Treat with a Transgender Hair Transplant
Because of the different hormones in a man and woman, balding and hair loss looks very different. Male hormones cause what is called "male pattern baldness" or "male patter hair loss". Our team at Virginia Surgical Center can help to treat any balding or thinning of the hair to provide a more feminine hair profile. With MTF hair transgender hair transplants, we can treat:
Too-high hairlines
Bald spots
Receding hairlines
Bald patches
Thinning areas of the scalp
Hairlines with a "masculine" shape
Treatment Options for Transgender Patients
There are two main treatment options for transgender patients who want a hair profile that better fits their identity. These two options are:
FUE Hair Transplant Transgender – The FUE hair transplant is one of the most reliable solutions for trans women experiencing advanced hair loss. It provides natural and desirable results because the process uses the patient's natural growth follicle patterns during the procedure. Our experts at Virginia Surgical Center can provide you with a solution to achieve your hair goals with FUE hair transplant.
FUT Hair Transplant MTF Transgender – FUT, or follicular unit transplantation, is another incredible treatment option for transgender patients. It provides dense, thick hair that looks natural and seamless. Patients also don't have to worry about cutting or adjusting their current hair. Patients can keep their long hair throughout the procedure and hair restoration process.
Who Is a Candidate for MTF Hair Transplants?
Hair transplants are a great option for virtually anyone who is experiencing advanced or severe hair loss. It is commonly used to correct "male patter hair loss" which is a result of male hormones. This means that hair transplants for transgender patients are even more beneficial. It's about more than just restoring your full head of hair. It's about obtaining an appearance that matches how you feel on the inside. While the transitioning process can help prevent further hair loss through hormone therapy, it can't reverse the effects. That's where MTF hair transplant transgender treatment comes into play.
What Happens During the MTF Hair Transplant Procedure?
When you come in for a MTF hair transplant procedure, you will first be fully educated on the ins and outs of the procedure by your expert surgeon. They will provide you with information about the anesthesia used, the surgical process, the length of the procedure, what to expect following surgery, and how to best recover. Our experts at Virginia Surgical Center will look for the best way to provide you with thorough and effective results. Some patients may need several transplant procedures to create the most natural feminine hair coverage.
The Recovery Process Like After MTF Hair Transplants
After receiving a MTF hair transplant, you should expect some redness, soreness and swelling in both the grafting and harvesting sites used for the surgery. These are very normal reactions to hair transplant surgery. Medication can help reduce the soreness and discomfort that you experience. For more extensive surgeries or large graft/harvest sites, expect recovery to take longer than for smaller incisions. You will have several follow-up appointments with your surgeon so that we can ensure that the transplant is taking, and that there are no complications.
What Results Can I Expect After MTF Hair Transplants?
The optimum results from your MTF hair transplant won't be visible right away. After the procedure, your skin has to heal, and the follicles need time to go through the natural growth cycles. The average timeline goes as follows:
Three Months After Surgery – You should start to see your new hair growth come in.
Five Months After Surgery – At five months, we can start to assess the hair growth.
One Year After Surgery – After one year your full and final hair transplant results will be visible.
At around five months, our experts will start to examine whether or not you will need further hair transplants to create the look that you desire. We also have many other non-surgical treatments such as Laser Tek 12000, Nutrafol, and more that can assist and enhance the results of your hair transplant surgery.
How Much Do MTF Transgender Hair Transplants Cost?
The severity of the hair loss, desired result, how many treatments are required, and other factors all will affect the final cost. During your free consultation, we will provide you with an estimate of how much your transgender hair transplant will cost, including anesthesia costs, appointment fees, and the surgeon's fee.
Why Choose Virginia Surgical Center?
When you need a provider of quality hair restoration services customized for your needs, there's no better place to go than Virginia Surgical Center. We provide the safest and best resulting hair restoration services in McClean, VA. In addition to our transgender hair transplant services, we provide:
Contact us today for a no obligation hair transplant consultation with one of our talented doctors at Virginia Surgical Center to see if transgender hair transplant services could work for you. We can't wait to help you achieve your hair goals.
Free Online or Free in Person Consultation