Skip to Content
Stress Adaptogen for Thinning Hair in McLean, Richmond and Virginia Beach, VA
Surgical Center Offering Nutrafol® Stress Adaptogen
At Virginia Surgical Center, we are proud to provide our valued patients throughout McLean, VA and the surrounding areas with the Nutrafol® Stress Adaptogen. Let's face it; life can be pretty stressful at times. Research has shown that stress is a common cause of thinning hair. During times of stress, hair follicles are impacted by the body's responses. Stress can cause the release of cortisol, which can lead to follicle regression. Substance P may also be released, which causes the area surrounding the follicle to be vulnerable to attack by affecting its immune privilege. Lastly, stress increases the corticotropin-releasing hormone, which binds to the follicle and causes the production of more stress hormones.
What is the Nutrafol® Stress Adaptogen?
The Nutrafol® Stress Adaptogen is specifically designed for those with thinning hair. This stress adaptogen provides extra support for stress as a root cause of thinning hair. Stress adaptogens can help balance cortisol levels while improving adaptation and resilience to stress. Adaptogens can improve the body's response to stress by helping naturally balance stress hormones. This is proven to help facilitate a healthy hair growth cycle. Stress adaptogens should be taken as a daily complement to Nutrafol®.
The Primary Causes of Hair Loss
Various factors can cause hair loss, including heredity factors, hormonal changes, certain medical conditions, natural aging, and more. Hair loss can even be caused by various lifestyle changes, including toxic environments, stress, and a poor diet. Stress comes in all shapes and sizes. Stress can cause excessive shedding or even all-over hair thinning. Anyone can be susceptible to hair loss.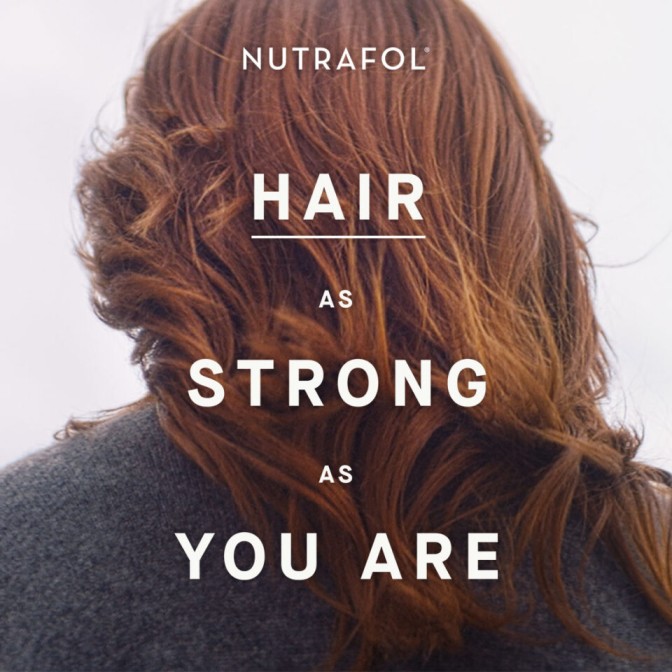 Nutrafol® Stress Adaptogen Features & Benefits
The stress adaptogen by Nutrafol® can counter hair thinning from stress by targeting the key areas that cause thinning by balancing and modulating the body's reaction to stress. The adaptogen has many benefits including, but not limited to, the following:
Targets the cause of thinning hair – The adaptogen balances cortisol levels, helps prevent oxidative damage, and helps the body's response to stress.
No additives – The Nutrafol® Stress Adaptogen is free of artificial additives, hormones, soy, gluten, and shellfish. It is entirely free of additives.
Does more than prevent thinning hair – Adaptogens have been known to help support stress responses, which can lead to improved sleep, energy, and focus.
The Perfect Pair for Thinning Hair
Looking for the perfect pair for thinning hair? If you are experiencing hair thinning from stress, our expert team recommends pairing Nutrafol® Core with the Stress Adaptogen. Nutrafol® Core is a natural, drug-free hair loss supplement that promotes hair growth to achieve healthier and thicker hair.
Stress: An Underlying Cause of Hair Loss
About 75% of adults reported experiencing moderate-to-high levels of stress in the past month and that their stress has increased in the past year. This percentage has likely increased due to the current COVID-19 pandemic. Both acute and chronic stress can disrupt hair growth. Traditionally, during periods of increased stress, cortisol signals the hair follicle to prematurely shift from anagen to telogen, where hair prepares to shed three to six months later. However, repeated exposure to stressful situations also play a role in the disruption of normal hair growth cycling. Stress not only has a direct effect on the hair follicle, but indirect effects via other systems in the body including the endocrine and digestive systems.
The Nutrafol® Stress Adaptogen for Stress Support
When you pair Nutrafol® Hair Growth Nutraceuticals with Stress Adaptogen MD – an advanced blend of four standardized stress adaptogen to promote stress resilience for those with excess stress and shedding. With Nutrafol®, better hair is just the beginning. Nutrafol® strives to advance the field of hair science, so you can be free to grow into the best version of yourself – your hair, your health, you happiness, and your power to help others grow, too. Signs you hair needs the Stress Adaptogen for stress support include excess shedding, trouble sleeping or waking up, and feeling stressed, anxious, or tired and wired. Whatever signs you're dealing with, the Nutrafol® Stress Adaptogen can help.
Our Nutrafol® De-Stress Hair Growth Duo
Stress is inevitable, and can sometimes creep up on us when we least expect it. Sometimes, the results of stress show up most in our hair. Nutrafol® has a De-Stress Hair Growth Duo that uses medical-grade adaptogens to target stress as a root cause of thinning hair. Signs of stress include low energy, excess shedding, poor sleep, hair texture changes, and anxiety. Our De-Stress Hair Growth Duo promotes:
Visibly thicker hair growth
Fuller scalp coverage and less shedding
Reduced stress and better sleep
Contact Today for the Nutrafol® Stress Adaptogen
If you are reading to take a stand against hair loss, reach out to the professional team at Virginia Surgical Center today. We offer various surgical and non-surgical treatments that effectively restore hair. Many treatments can work in conjunction with Nutrafol® Core and Stress Adaptogen. Our experts will help you find the hair loss treatment that will work best for you. Contact us today to schedule a consultation.