Skip to Content
PRF Hair Restoration in Richmond, McLean, &, Virginia Beach, VA
Effective Hair Restoration Solutions Near You
In McLean, VA and the surrounding areas, there's no better solution for your hair loss needs than Virginia Surgical Center. We have been offering comprehensive hair loss solutions to the community for over 20 years, including surgical and non-surgical options for both men and women. Our services can aid in treating balding, receding hairlines, thinning hair, and more. When you choose Virginia Surgical Center, you will benefit from services from highly qualified and specialized experts, incredible technology, and a customized treatment plan to perfectly meet your needs. One of our most popular services is PRF hair restoration.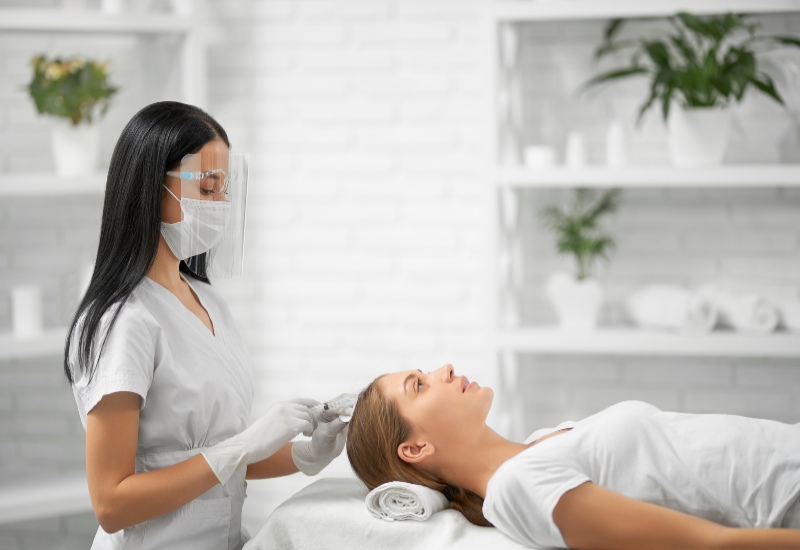 What Is Hair Restoration With PRF?
PRF stands for platelet-rich fibrin. PRF for hair restoration is a natural treatment that can stimulate hair follicles and encourage new hair growth. PRF can actually decrease the thinning hair process. This process is similar to PRP hair restoration. The technician will take a small blood sample and put it in our FDA-approved centrifuge. The centrifuge will separate the plasma from the red blood cells. That plasma contains the platelet-rich fibrin that is used for hair restoration.
PRF contains highly concentrated amounts of growth stimulants and factors. The technician will then take the PRF and inject it into the treatment area on the scalp. When applied to thinning or balding areas of the patient's scalp, hair restoration occurs. As the skin heals  the wound, the growth factors found in PRF kick into hyperdrive, activating a new hair growth cycle resulting in thicker, healthier hair growing here in the future.
How Successful Is PRF for Hair Regrowth?
Depending on the patient and the amount of hair loss, patients can usually start to see results after four weeks. We also highly recommend coming in for maintenance treatment every 6 months to 1 year after the first set of treatments. This ensures that your hair remains strong and healthy. When the correct treatment plan is followed, the success rate of PRF is around 80%.
What Else Can I Do to Improve My Results?
For many of our hair restoration procedures and treatments we recommend taking Nutrofol and vitamin B12 supplements. These can further stimulate hair growth and the production of strong, healthy hair. Our team at Virginia Surgical Center offers these for your convenience.
Why Is PRF Better Than PRP for Treating Hair Loss?
While PRF and PRP are both incredible hair restoration treatment options, PRF is the upgraded version of PRP. PRP needs additives to help improve hair restoration success while PRF is 100% natural and additive-free. PRF takes the natural fibrin, which includes stem cells and white blood cells, from the blood. Stem cells and white blood cells are both responsible for stimulating tissue growth and regeneration. Some other reasons that PRF is better than PRP for treating hair loss are:
PRF has a higher concentration of growth factors than PRP.
PRF will stimulate better skin improvement than PRP.
PRF acts as a scaffolding for longer-lasting growth factors than PRP.
PRF holds on to the injected area, lessening the chances of these growth factors slipping away to where they're not needed.
How Many PRF Treatments Do I Need?
Before treatment, we provide a free, no obligation consultation where our experts at Virginia Surgical Center can hear your concerns and address the best solution for your hair goals, and provide you with an estimate for how many PRF treatments you'll need. On average, we recommend four monthly treatments. After four months, we'll determine if and how often follow-up treatments should be scheduled.
How Much Does PRF Hair Restoration Cost?
PRF hair restoration cost varies quite a bit, ranging from $600 to $900, depending on their hair loss, how many treatments they need, and their desired effect. During the consultation, after discussing options we'll provide you with an accurate and precise PRF hair restoration cost estimate. This way you can plan when ad what will be best for you.
Why Choose Virginia Surgical Center?
Our experts at Virginia Surgical Center provide you with the best, safest and most affordable options for PRF hair restoration services in McLean, VA. In addition to this incredible service, our team offers comprehensive hair loss solutions including:
Contact us today for a free, no obligation online hair transplant consultation with our skilled doctors at Virginia Surgical Center to see if PRF hair restoration is the best option for you. We can't wait to help you achieve your hair goals.
Free Online or Free in Person Consultation