Skip to Content
Hairline Surgery in McLean, Richmond and Virginia Beach, VA
Welcoming You to Your New Confidence Boost
At Virginia Surgical Center in McLean, VA, we understand how powerful and transformative small aesthetic adjustments can be. Confidence can be bolstered by simply enhancing your features to reflect your inner self-image. That's why we proudly offer hairline surgery, a highly effective procedure that modifies your hairline to suit your facial harmony better. This particular surgery can potentially improve your overall appearance, increase your confidence, and change how you perceive yourself.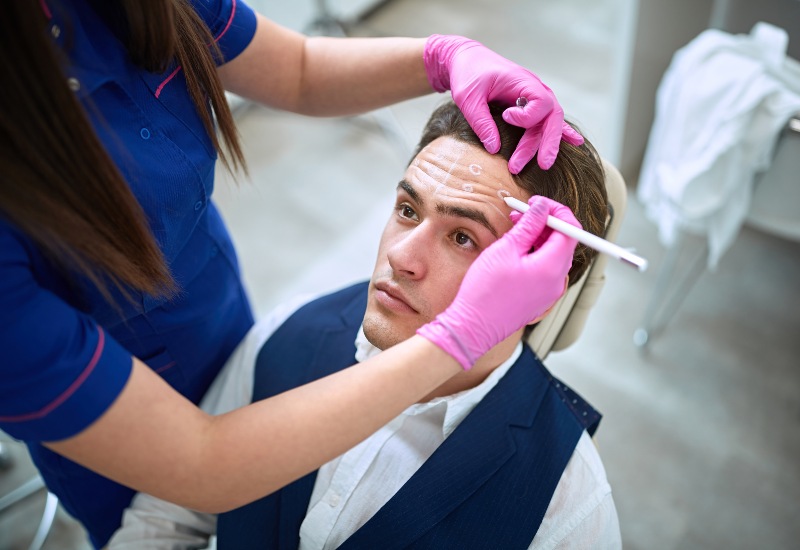 Understanding Hairline Surgery for Women & Men
Hairline lowering surgery, also referred to as hairline advancement surgery or hairline correction, is a surgical procedure specifically designed to position the hairline in a location that is more aesthetically pleasing and in line with the proportions of your face. This surgery is often a solution for those born with naturally high hairlines or individuals experiencing hairline receding due to age or genetic factors. By moving the hairline to a lower, more desirable position, we can help you achieve a more youthful and balanced appearance.
Discover the Advantages of Hairline Lowering
Hairline lowering surgery comes with a myriad of benefits. First and foremost, it provides:
Personalized Treatment Plan – Each individual's needs and hair conditions are thoroughly assessed to formulate the most appropriate surgical plan.
Boosted Self-Esteem – The significant improvement in appearance often leads to a marked increase in personal confidence and self-esteem.
Immediate and Lasting Results – The outcome of the surgery is visible soon after the procedure and provides lasting, often permanent, results that stand the test of time.
Ideal Candidates for Hairline Lowering Surgery
Our hairline lowering procedure is designed to suit both men and women. The best candidates for hairline lowering for men and women are those who:
Possess thick frontal scalp hair, which helps achieve a natural-looking result.
Are in overall good health, which aids in faster recovery and optimal results.
Have a naturally high or receding hairline that they feel is out of proportion with their other facial features.
Your Initial Consultation – What to Expect
At Virginia Surgical Center, we aim to make your initial consultation an informative and comfortable experience. During this meeting, our experienced surgical specialists will:
Carefully assess your hairline, scalp condition, and hair density.
Engage in detailed discussion about your aesthetic goals and expectations.
Develop a tailored treatment plan that aligns with your desires and current hair situation.
Preparing for Your Hairline Lowering Procedure
Preparing for surgery is a crucial part of the journey. Our dedicated team will guide you on how best to prepare for your hairline lowering procedure, including:
Offering advice on dietary changes, ensuring optimal health for your procedure.
Providing clear guidance on medication adjustments, including what to avoid before the surgery.
Preparing you for recovery at home, including details on what to expect and necessary arrangements.
Journeying Through the Recovery Phase
Our commitment extends beyond the operating room to ensure your recovery period is as smooth as possible. During the recovery phase, you can anticipate the following:
Minimal discomfort that can be effectively managed with prescribed medication.
A follow-up appointment with our surgical team for suture removal and progress monitoring.
Some swelling and bruising are normal post-operative symptoms that will gradually subside over time.
Complementary Procedures to Consider
At Virginia Surgical Center, we offer an array of other beneficial procedures that can further enhance your appearance. These complementary procedures include:
Hair Transplant Hairline Lowering – This procedure uses additional hair grafts to lower the hairline further or fill in thin areas.
Female Hairline Lowering – A technique specifically designed to cater to the unique needs of women seeking hairline modification.
The Virginia Surgical Center Difference
Choosing Virginia Surgical Center for your hairline lowering surgery means you're placing your trust in a highly experienced and dedicated team. Our professionals:
Offer personalized care, treating each patient as an individual with unique needs and goals.
Have a proven track record, demonstrating successful outcomes and high patient satisfaction.
We are committed to maintaining the highest safety standards throughout every aspect of your journey.
Other Ways we can Help
Our array of surgical procedures, including hair transplant surgery, can help restore a fuller head of hair, with many clients witnessing satisfactory results. Additionally, we provide non-surgical treatments such as low-level laser therapy, alternative hair loss therapies, and hair growth supplements.
Get in Touch with Us
Are you ready to embark on your journey with hairline lowering surgery? Your transformation awaits at Virginia Surgical Center. Whether your interest lies in female hairline lowering, hairline lowering for men or hair transplant to lower the hairline, our expert team has the experience and skills you need to attain optimal results. Our focus extends beyond offering a competitive hairline lowering surgery cost to ensuring the highest quality of care and patient satisfaction. Contact us and take your first step towards a renewed sense of self-confidence and enhanced appearance.
Free Online or Free in Person Consultation