Skip to Content
Does Laser Hair Therapy Work?
Hair loss can be such a struggle for many men and women and while the causes vary, improvement is the goal. There are a variety of hair transplant surgeries that many people benefit from; some surgical procedures and laser hair therapy. Some people prefer a less invasive approach to improving their hair loss realities. For these people, laser hair therapy may be a Virginia Beach better option.
What is Laser Hair Therapy and how does it work?
Laser hair therapy is an FDA approved treatment that stimulates the hair follicles and encourages their growth. It is designed to increase hair follicles' production in the scalp using low-level laser hair therapy (LLLT). Hereditary pattern baldness in men and women have been known to improve for individuals undergoing this treatment. It is 100% safe and there are no known side effects. As a matter of fact, most patients describe their LLLT experience as comfortable, cool, and extremely easy.
How Does Laser Hair Therapy Work?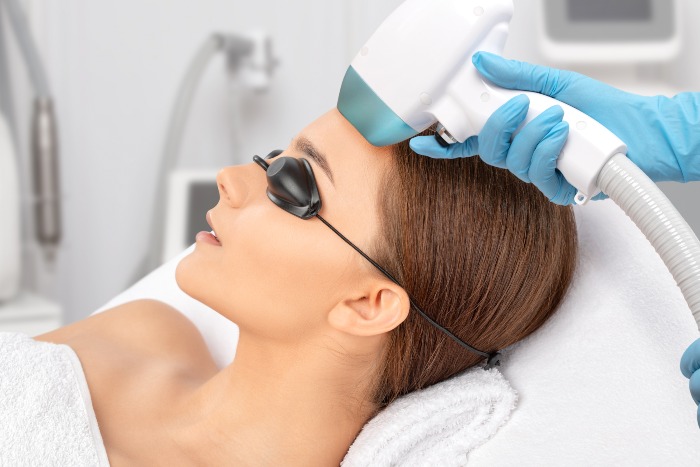 Laser therapy provides light energy to your scalp causing an increase in blood flow in the targeted areas of your scalp, therefor, promoting normal hair growth and making your hair look healthier, fuller and thicker. LLLT is enhanced when topical scalp treatment products are also used during recovery.
At Virginia Surgical Center, we have two LLLT options; Laser Tek 12000 and Revian. Both treatments offer benefits in unique ways. To compare them is a part of discovering the best treatment method for you.
Laser Tek 12000:
The Laser Tek 12000 is a state of the art laser therapy machine. It is an FDA-approved, class 3A cosmetic device. It is cool to the touch and many patients report no sensation during treatment.
Increases energy to the cells thus allowing the cells to absorb nutrients and remove waste faster
Improves blood and lymph circulation
Brings cells into oscillation patterns
Streams laser light from as many as 160 diodes directly onto your head, boosting blood supply and stimulating the metabolisms of hair-follicle cells.
Revian:
Patented LED technology accelerates scalp healing to renew cells associated with hair growth and retention. FDA-approved therapy that uses led lights in two colors to produce nitric oxide which blocks DHT.
It reduces inflammation and causes vasodilation.
At-home Therapy plus in-office treatments to get the most effective results possible.
During your free consultation, our staff can help you determine the pros and cons for each laser hair therapy option. Treatments are as individualized as you are. Pricing will also vary according to the service chosen and number of treatments needed.
The Benefits of Laser Hair Therapy Treatment
Results will vary from client to client. We have seen hair loss subside in clients in anywhere from 3 to 6 weeks. Normally clients will see improvement within the first six months. The benefits of laser hair therapy are plentiful:
Increases blood supply to the scalp
Stimulates hair follicles
Puts to an end the progression of hair loss.
Increases hair strength and elasticity.
Achieves fuller, shinier, softer, thicker hair.
For post-op hair transplant surgery, laser hair therapy treatments have been shown to help stimulate newly transplanted hairs to regenerate during the healing process.
Can repair damage caused by chemical hair products and procedures
Change your life with a free consultation today!
You don't have to stay stuck in embarrassment or low self-esteem due to hair loss. You don't have to endure a surgical procedure in order to achieve the return of your once luscious locks.
Conveniently located in McLean, Richmond and Virginia Beach, Virginia Surgical Center, we are currently offering online and face time consultations. Our patients' health is the number one priority of our team of professional, caring and efficient clinicians. During this time of quarantine and self-isolation, we're taking steps to make sure our office maintains a sterile and safe environment for our patients and employees. Please contact us today to request a free consultation!