Skip to Content
PRP Hair Restoration in McLean, VA
Innovative Hair Restoration Solutions Near You
Our team at Virginia Surgical Center is proud to offer comprehensive hair loss services. Our services include surgical and non-surgical options. This means that we can create the perfect integrated hair loss treatment plan for you using one or several of these hair loss solutions. We have been serving McLean, VA for over 20 years, providing services that can help with receding hairlines, balding, and thinning eyebrows. We also offer services specialized for both men and women. When you choose our team at Virginia Surgical Center, we will serve you with our knowledgeable expertise on hair restoration solutions. Experience trustworthy experts, high-end technology, and customized treatment plans. One of our popular hair restoration services is PRP hair restoration treatment. Learn more about it below and request a free, no obligation consultation.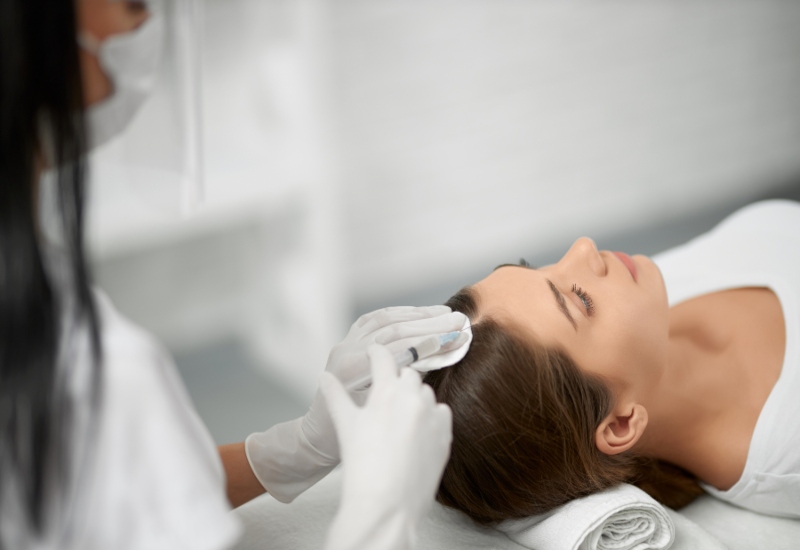 About PRP Hair Restoration
There are many causes for hair loss from stress, genes, medical conditions, hormonal imbalance, medications, and more. PRP hair restoration is an incredible non-surgical treatment that has been advanced to the point where it provides near identical results as surgical hair transplant. During PRP, a blood sample is taken from the patient. In this blood sample, the platelet-rich plasma (PRP) is separated from the rest of the blood. The PRP is then injected into bald spots or concerning areas of the scalp.
Blood is a crucial component to hair growth, specifically the PRP component of blood. By taking the PRP from your blood, we are able to directly stimulate and improve the hair follicles hair production. PRP hair restoration results in thicker and longer hair shafts growing in place of the bald spots.
How Does PRP Work for Hair Loss?
PRP treatment for hair restoration is non-invasive and has been studied and verified thoroughly. Our PRP tools and machinery are FDA approved, and our doctors will ensure that PRP hair restoration is the best choice for you. Most patients have reported that their hair has grown back stronger and fuller than before the PRP procedure.
PRP Hair Restoration Benefits
Including gaining fuller, thicker hair through PRP, you can benefit from:
Affordable alternative to more expensive procedures/treatments
Fast results with visible results within weeks
No recovery time required after procedure
More youthful look with increased volume and coverage
Safe and natural results with no surgery
Long lasting results eliminate the need for constant maintenance
PRP for Hair Loss: What are the Risks?
No medical procedure comes without risks, but the risks that PRP hair restoration present are minor, which are:
Bruising/Bleeding – Some patients may experience bruising and/or bleeding either at the treatment site, or where we collect your blood sample. This is very normal, and the bruising and bleeding will dissipate quickly.
Scarring – Some of our patients also experience scarring. While this is much less common than bruising, it can still happen. If you have an autoimmune disease, you are more likely to experience scarring. Please talk with our doctors about any existing diseases or conditions that you have so that we can best watch out for these risks.
PRP for Hair Loss: Is It Right for Me?
PRP is a great option for most people because of the low-risk, low-side effects nature of this non-invasive procedure. To help us determine if PRP is the best solution for your hair needs, we ask that you provide us with a complete list of all the medications and supplements you are taking. We also may recommend a different procedure if you are a heavy smoker, drinker or take blood thinners. These can affect your blood and the procedure.
Tips to Make PRP More Effective
There are many changes or actions you can take to better increase the effectiveness of your PRP procedure. Overall, the healthier you are, the more effective your PRP will be. This means that generally making healthier choices can do wonders for your results. We recommend:
High-Intensity Cardo Exercise – Cardio is incredible for your health. In addition to making you feel good, it can actually reduce your chances of getting sick and improve blood flow.
Avoid or Limit Smoking and Drinking – If there is nicotine or alcohol present in your blood, it can cause PRP hair restoration to fail.
Adopt a Healthier Diet – A healthy diet not only helps you to lose weight, but it helps you to ward off heart disease, some cancers, stroke, arthritis, infertility, depression and even Alzheimer's disease.
Stay Hydrated and Take Your Supplements – One great way to improve your PRP results is to stay hydrated. Drinking enough water is fantastic for your health in general but can ensure that your blood and PRP are going to be successful. Also, make sure to increase your daily intake of vitamins, such as B12, C, D, and E, which improve red blood cells and hemoglobin.
Why Choose Virginia Surgical Center?
Choose Virginia Surgical Center for your PRP hair restoration procedure in McLean, VA for incredible results and quality service. Our experts are committed to providing services to our community that help you become the best version of yourself. With our resources and comprehensive services, you'll quickly be able to restore your gorgeous full head of hair. Our comprehensive hair restoration services, in addition to PRP, include:
Free Online or Free in Person Consultation