Skip to Content
Hair Transplant Success Rate
We live in a culture and time where youthfulness and beauty are sought after! So many individuals facing hair loss don't realize that there are helpful solutions available to them! Whether the cause of your hair loss is genetics, a hormonal imbalance, or because of the way you have cared for your hair throughout your lifetime, a hair loss transplant is available for you! Before you say yes to the procedure, though, you are likely wondering about the hair transplant success rate as well as the cost of having a hair transplant.
At Virginia Surgical Center are here to serve, allow us to answer a few of your questions!
What Percentage of Hair Transplants are Successful?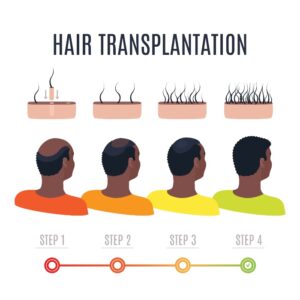 This one is at the top of the list! Why? Because if you are going to go through the time and money of having a hair transplant completed, then you want to know what to expect! To fully answer this question, let's look at your goals for a hair transplant and also at the different types of treatments offered at Virginia Surgical Center and their individual results.
Follicular Unit Extraction (FUE): This procedure allows us to lift individual hair follicular units from your scalp and move them elsewhere to thicken thinning areas.
Follicular Unit Transplant FUT Hair Transplant: FUT hair transplants require hair from a donor area, but they are effective and safe, which makes them ideal for some of our patients.
Trichophytic Donor Closure Technique: This technique is popular with patients who want to minimize scarring, as it is a non-invasive procedure that camouflages the treatment.
With any of these treatment methods, the individual need of the patient along with the skill of the hair transplant surgeon plays a key role in the success of the transplant. In most cases, hair transplant recipients should expect up to a 95% success rate after 6-12 months of time for hair to grow.
What are the Reasons that Decide Hair Transplant Success?
There are 4 key components that decide hair transplant success:
Quality Clinic: Put the odds in your favor and choose skillful surgeons who can help you evaluate your hair loss situation and then work to find an individualized solution for you!
Highly Qualified Surgeons: This seems like a no-brainer! Don't risk your health and safety by choosing a surgeon who isn't the best! Do your research and find a surgeon with the highest level of training so that you are making a safe, effective, and informed decision.
Precision: FUE is the most preferred choice among patients because of its high level of precision. In an FUE procedure, hair follicles are lifted and placed one at a time providing natural and highly successful results. While it may not be the best choice for everyone, most people who have an FUE experience low pain with desired results!
Hair Transplant Consultation: Your hair transplant should be customized for your individual needs. During your consultation, explore pros and cons for each of the options and make an informed and appropriate decision that meets your needs.
At your consultation, expected results and recovery should be discussed. After your procedure, your scalp may be tender. Expect for your surgeon to prescribe an antibiotic and an anti-inflammatory. You will wear bandages for a few days and patients typically return to work after 2-5 days. Within 2-3 weeks most of the transplanted hair will fall out but new hair should begin to grow. Within 6-9 months, 60% of the new hair should be growing.
How do you Select the Right Surgeon?
You have the right and responsibility to research! Look at the FAQs and Reviews of surgical centers on their websites before even choosing where to schedule consultation appointments. At your consultation, ask even more questions about your individual needs, including the certifications of the surgeon. The surgeon should be able to prove his or her qualifications and also thoroughly answer any questions that you have. The bottom line is that if you don't feel comfortable then you haven't found the right surgeon.
How Long Does a Hair Transplant Last?
For many patients, thicker hair is achieved. However, for the best results, a touch-up procedure is common. The best, longest lasting results are achieved when a qualified surgeon does an evaluation to determine the proper procedure and then performs the transplant. Additionally, proper post-op care is important for optimal results.
Change your life with a free consultation today!
At Virginia Surgical Center, we are currently offering online and face time consultations. Our patient's health is our number one concern. During this time of quarantine and self-isolation, we're taking steps to make sure our office maintains a sterile and safe environment for our patients and employees. Please contact us today to request a free consultation!