Skip to Content
Transgender Hair Transplants in McLean, VA
Empowering Transformation Through Hair Transplants
At Virginia Surgical Center in McLean, VA, we pride ourselves on helping individuals in their journey toward self-realization. We recognize the profound importance of hair in expressing one's identity and provide transgender hair transplant treatments that help embody the individual's true self.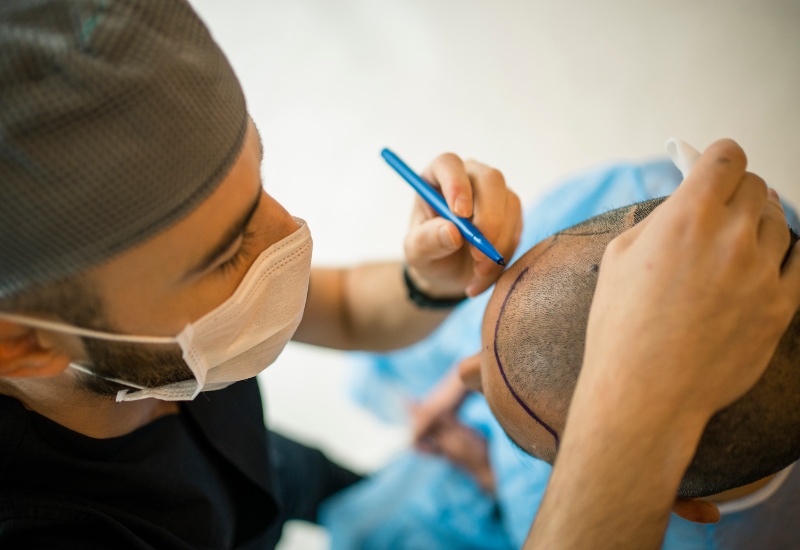 Transgender Hair Transplant – The Road to Self-Expression
Hair plays an important role in defining your identity. Our transgender hair transplant treatments aim to help you attain the physical appearance you wish to present. Whether you're transitioning from male-to-female or female-to-male, our experienced surgeons use proven hair transplantation methods to create a natural and authentic look.
Male-to-Female Hair Transplantation – Your Path to Femininity
In our MTF hair transplantation procedures, we understand the subtleties contributing to a traditionally feminine hairline and overall hair density. We work meticulously to establish:
High Hairline Shape – Feminine hairlines often sit higher on the forehead and display a rounded shape.
Natural Density – We increase overall hair density to provide a fuller, more feminine look.
Soft Frontal Hairline – We focus on creating a soft, feathered hairline to ensure a natural, undetectable result.
Female-to-Male Hair Transplantation – Defining Masculinity
When performing female-to-male hair transplantation treatments, we create a masculine appearance by considering:
Lower Hairline – We shape the hairline to sit lower on the forehead and typically straight across, reflecting common masculine traits.
Beard and Moustache Transplants – We can also provide hair transplantation to create or enhance facial hair.
Increased Density – We create the perception of thicker hair, in line with common male characteristics.
Our Procedures for Transgender Hair Transplant Treatments
At Virginia Surgical Center, we utilize advanced techniques for both male-to-female hair transplantation treatment and female-to-male hair transplantation treatment.
Follicular Unit Extraction (FUE) – This less invasive procedure involves harvesting individual hair follicles from the donor area and transplanting them to the recipient area.
Follicular Unit Transplantation (FUT) – Involving removal of a strip of scalp from the back of the head, which is then dissected into individual grafts and transplanted to the recipient area.
Understanding the Differences in MTF & FTM Hair Restoration
While both male-to female hair restoration and female to male hair restoration aim to produce natural-looking results that align with the desired gender identity, the approach differs. The considerations vary between hairline shaping, hair density, hair placement, and additional factors such as facial hair transplantation in FTM patients.
Areas We Can Apply Transgender Hair Transplant Treatments
Our transgender hair restoration extends beyond scalp hair. Depending on the requirements of the patient, we can provide:
Scalp Hair Transplantation
To create an appropriate hairline and improve density.
Facial Hair Transplantation
To enhance beard and mustache density in FtM patients.
Body Hair Transplantation
In some cases, patients may opt for body hair transplantation.
Why Trust Virginia Surgical Center?
We customize each hair transplant for transgender patients according to their individual goals. Our patients can trust our experience, expertise, and commitment to creating the most natural-looking results possible.
As a pioneer in the field of hair transplantation, Virginia Surgical Center is committed to providing safe, effective, and confidential care. Our compassionate team understands the specific needs and desires of transgender individuals. Trust us for:
Experienced Surgeons – Our team is highly skilled and experienced in performing transgender hair transplant treatments.
Comprehensive Care – From consultation to post-procedure follow-up, we ensure you are comfortable and well-informed throughout the entire process.
Superior Results – We're dedicated to providing the best possible results to align with your desired gender identity.
Contact Us for Hair Transplants & Our Other Services
Virginia Surgical Hair Center provides tailored hair loss solutions, including surgical transplants, laser therapy, and growth supplements. We offer in-person and online consultations from our locations in McLean, Richmond, and Virginia Beach, VA, aiming to restore your hair and confidence. Start your transgender hair restoration journey with us. Contact us to schedule a consultation, and let's discuss the best hair transplant options to support your transition.
Free Online or Free in Person Consultation