Skip to Content
Beard Transplant Procedure in Richmond, McLean, &, Virginia Beach, VA
Facial Hair Transplant for Virginia Beach, Richmond, & McLean
Many men take the ability to grow facial hair for granted. However, some men have trouble growing a beard, mustache, or even sideburns due to a genetic issue or hormonal imbalance. Don't despair. Virginia Surgical Hair Center has your back. We provide facial hair transplants in our Virginia Beach, Richmond, and McLean facilities. A facial hair transplant involves transferring hairs from the back of your head (where it grows thicker) to certain areas of your face. Even if the color of your scalp hair differs slightly in color from that of your facial hair, we've helped numerous patients in Northern Virginia achieve natural-looking results over the past 25 years. While facial hair transplants aren't exactly a new concept, advances in hair restoration procedures have made them more effective over the years.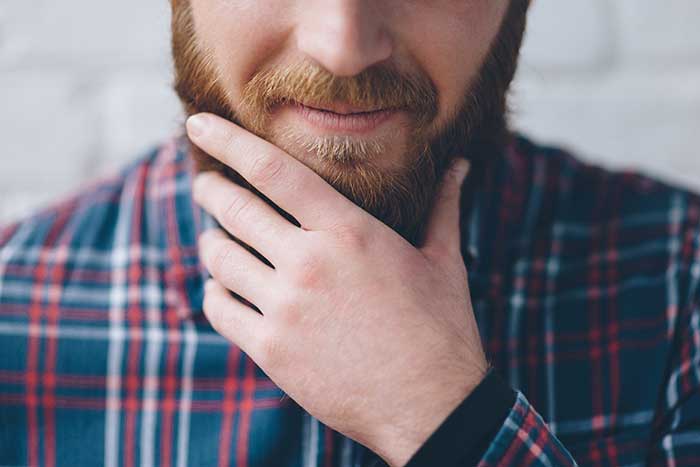 Mustache, Sideburns, and Beard Facial Hair Transplants
If you have difficulty growing facial hair or have experienced facial hair loss for whatever reason, Virginia Surgical Hair Center can provide you with the following types of facial hair transplants in our Virginia Beach, Richmond, and McLean facilities in Northern Virginia:
Mustaches: Mustaches have made quite a comeback in recent years. If you're eager to grow a thick mustache, or if you wish to complete a full beard, schedule an appointment.
Beards: It's very common for men to grow patchy beards. Facial transplant surgery can easily fill in the blank spots of your beard and help you achieve the full-bearded look you're after.
Sideburns: Sideburns have been a popular type of facial hair since the days of Elvis. Whether you want standalone sideburns or sideburns that connect to your beard, our team can help.
How Does the Beard Transplant Process Work?
Most facial hair transplants can be completed in less than a day as an outpatient procedure using local anesthesia. Virginia Surgical Hair Center utilizes automated follicular unit extraction, or automated FUE, hair transplant procedures to help our patients achieve the most natural results. Unlike a follicular unit transplant procedure in which a strip of donor tissue is removed and dissected under magnification, our FUE procedure extracts each follicular unit individually with the use of a small instrument for better precision. Our offices also utilize the trichophytic donor closure technique to help reduce the appearance of donor scars after a facial hair transplant procedure has been completed.
What to Expect During a Beard Transplant Procedure
When you come in for a beard transplant consultation, our skilled doctors will study every aspect of your beard area to determine how to make your results the most natural-looking. Every incision we make during a beard transplant procedure must be made with careful attention to the direction, angle, and density of your beard's hair growth. After your procedure, you can expect to lose the transplanted hairs in your beard in about 2-3 weeks. However, they should begin to grow back permanently within 3-4 months, once your body has had time to recover from the shock and regenerate the hair follicles. Individual results will vary, but the majority of our patients seeking a beard transplant are generally pleased with their results. You may not achieve complete beard coverage, but a beard transplant should help you eliminate many of your beard's bald, inconsistent patches.
Things to Consider Before a Facial Hair Transplant
There are many things you should consider before a facial hair transplant at one of our Northern Virginia offices, including:
A Confidence Booster: Having a fuller beard, mustache, or sideburns can be a real confidence booster for many men. Just because you weren't blessed with luscious facial hair growth during puberty doesn't mean you have to resign to having a patchy beard for the rest of your life. You have many facial hair transplant options available to you to help you feel more secure in your masculinity!
Not Just for Goatees: When you hear the words "facial hair transplant," you probably visualize a beard or goatee. However, facial hair transplant procedures are also commonly used for mustaches, eyebrows, and sideburns.
Minimal Recovery Time: While you may need to use a vacation or sick day on the day of your facial hair transplant procedure, the good news is you won't have to worry about a lengthy recovery. Facial hair transplant incisions are small and relatively painless. You may experience minor swelling or redness for a few days, but that's about it.
Bring a Photograph: If there's something specific you have in mind for your beard, mustache, or sideburns, feel free to bring in a photograph to show us. This will help us understand your facial hair restoration goals to help you achieve more satisfactory results. It also helps us set more realistic expectations with our patients about what's possible and what isn't.
Get Started Today with a Beard or Facial Hair Transplant
Do you suffer from "hipster" facial hair envy? Despair no more. Generally speaking, most individuals in good health make successful candidates for a facial hair transplant procedure at Virginia Surgical Hair Center. If you're interested in an eyebrow, beard, or other facial hair transplant procedure, call us today at 703-962-7419 to schedule your free initial consultation with our hair restoration experts in Richmond, McLean, and Virginia Beach. We'll gladly answer all of your questions about how you can finally achieve the look you want with a fuller beard, mustache, or sideburns.
Free Online or Free in Person Consultation