Skip to Content
How Trichophytic Closure Improves Hair Transplant Results
Advances in hair restoration techniques have been quite remarkable in recent years. Men and women with hair loss can take advantage of sophisticated surgical techniques designed to produce truly natural-looking results with better coverage on treated areas and less noticeable donor sites. One of these advanced techniques is the trichophytic closure. If you are thinking of undergoing hair transplant surgery near Virginia Beach, you may wish to search for a hair loss clinic with physicians who are well-versed in this surgical technique.
Closure Technique
The trichophytic closure does not refer to a new type of hair restoration surgery; rather, it is a technique for closing the donor site. The donor site is the area from which follicle grafts are extracted. With previous closure techniques, the linear donor scar remained visible. To cover it up, patients had to grow the surrounding hair longer. The trichophytic closure is different. The hair doctor does not simply suture the two edges of the donor site together; rather, he or she precisely trims away a very small amount of the skin on either the upper or lower edge of the donor site. This removes the top of the hair follicles on the edge. Then, the trimmed edge is gently pulled toward the opposing edge, forcing the bottoms of the cut follicles to angle slightly toward the incision. This allows hair to regrow through the linear scar, rather than only on either side of it. Most often, physicians trim the upper edge of the donor site.
Hair Regrowth
A few months after undergoing surgery to treat hair loss in women or men, hair regrowth in the donor site may be noticeable. Eventually, the linear scar will no longer be visible beneath the newly grown hair. This is particularly advantageous for men and women who prefer to wear their hair very short. With the trichophytic closure, the casual observer will never be able to tell that the patient underwent a hair restoration procedure. Even if the hair on the donor area is combed upward, the scar will be virtually invisible.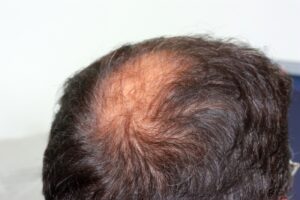 ""