Skip to Content
Signs Hair Transplant Surgery Could Be Right for You
If you suffer from hair loss, you're probably interested in hair loss solutions. There have been many advances made in hair loss treatments and medical hair transplants. Hair transplant surgery is now a safer, more effective method of hair loss treatment for men and women than ever before. Keep reading to find out if you're a good candidate for hair transplant surgery, and then visit a hair loss clinic near McLean for a consultation.
If You Are In Your 30s or 40s
Many young men who begin losing their hair prematurely may seek out hair loss treatments. Unfortunately, it's hard to tell how extensive hair loss will be when you're young, making it difficult for a physician at a hair loss clinic to develop an effective hair loss treatment plan. Male pattern baldness typically progresses with age, meaning that if you've already suffered significant hair loss at a young age, it will get worse as you age. If you get hair transplant surgery in your 20s, you'll continue to lose hair, and may eventually not have enough naturally growing hair left to finish your hair transplant.
If You Have Reasonable Expectations of Hair Restoration Results
Treatment options for hair loss in women and men have advanced significantly in the last decade. However, no hair loss treatment is perfect, and you will be disappointed if you go into your hair transplant surgery expecting a miracle. If you suffer from male pattern baldness, you should be prepared to continue to experience hair loss even after your hair transplant surgery. A physician at a hair loss clinic can recommend other hair loss treatments that may stimulate hair regrowth.
If You Have a Certain Hair Type or Quality
Having wavy or curly hair makes it easier to hide the signs of hair loss in women and men, making those with curly hair ideal candidates for hair transplant surgery. If your hair is dense or thick, you probably have more hair in the donor area of your scalp that can be successfully harvested for hair transplant surgery.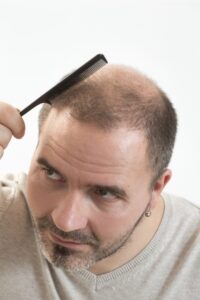 ""